Selover's Lookout in Healesville, Australia offers picturesque views of the Maroondah Reservoir and Yarra Valley. It is an ideal spot for a romantic getaway, a family vacation, or a day trip exploring the region's natural beauty.
Located a 70km 1.25 hour drive east of Melbourne CBD, Selover's Lookout is an ideal spot to watch the sunset, soak in the local scenery, and take in the fresh air. The lookout is situated on a high hill, giving visitors a bird's eye view of the charming Maroondah Reservoir, the Yarra Valley and its rolling hills, lush vineyards, and winding rivers. From the lookout, visitors can spot kangaroos, koalas, and other native wildlife. During winter when the leaves turn orange and brown, you count on seeing some amazing sites.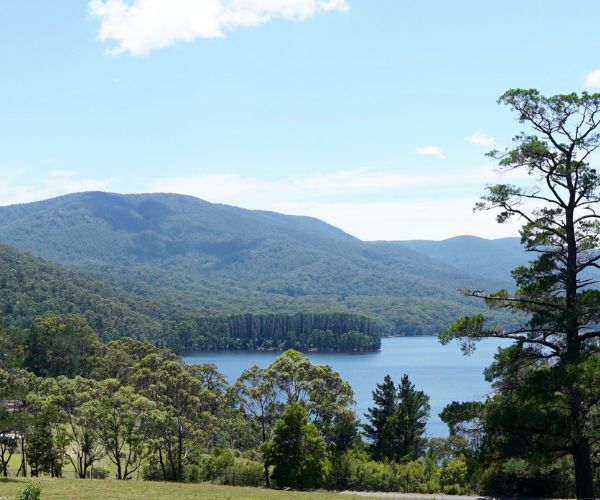 From Selover's Lookout, visitors can enjoy panoramic views of the Yarra Valley, the Dandenong Ranges, the city of Melbourne and the distant peaks of Mount Baw Baw. On a clear day, visitors can even spot the snow-capped peaks of Mount Buller in the distance.
The lookout is easily accessible by car, and visitors are welcome to stay for a picnic or a leisurely stroll. There are plenty of nearby trails for those who want to explore the area's unique flora and fauna. There are also plenty of restaurants and cafes in the area for those who want to grab a bite to eat or you can use the barbeques provided on-site. Public toilets are available.
Selover's Lookout is a great spot for travelers who want to escape the hustle and bustle of city life and reconnect with nature. Whether you're looking for a romantic getaway or a family-friendly outing, Selover's Lookout is the perfect place to take in the beauty of the Yarra Valley.
Key Visitor Info
Address: Selovers Lookout Road, only about 100 metres from the Maroondah Highway intersection.
Accessibility: This lookout is easy to access with no long walks. The views can be seen from the carpark.
Best time to visit: You could visit when the sky is clear and sunny so you can and enjoy long views. Or visit on a cold winter morning and enjoy looking through the fog.Best known for: One of the best water views in the Yarra Valley and Dandenong Ranges area. One of the most accessible lookouts in the area.