The Lakes Entrance Lookout is the best starting point for your exploration of the seaside resort town and fishing port. It's also the right site to cap off an exciting trip. Get to the summit overlook to take in the expansive views of the town's stunning lake coastlines, coastal heathlands, and the endlessly blue Bass Strait horizon.
It is conveniently located and offers free on-site parking. Alternately, you can get out at the Kalimna Bus Stop and board the neighbourhood bus to get to the lookout.
The lookout is free to visit and there are public toilets available.
Key Visitor Info
Address: Hotel Road, Kalimna VIC 3909
Accessibility: Some small steps with an adjacent handrail, but accessible for most people.
Best time to visit: Preferably on a clear day, however if you're only in the area for a short period of time then it's worth visiting whenever you can.
Best known for: The best place to enjoy panoramic views of Lakes Entrance, the beaches, waterways and wildlife.
Things To See & Do At Lakes Entrance Lookout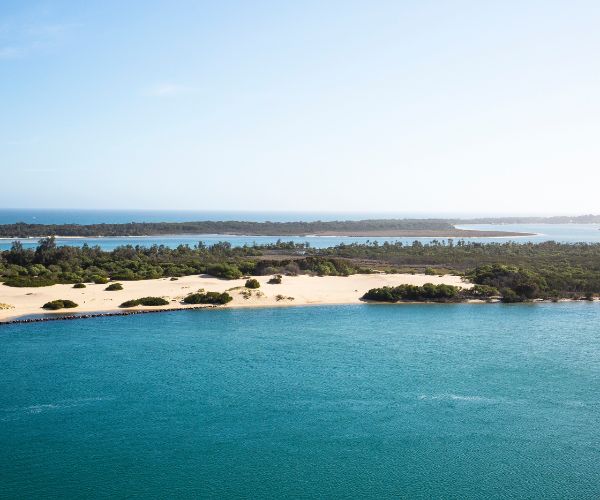 Look south-east to view Rigby Island and the Narrows, a location where the two land masses almost converge. The unspoilt coastal heathland is protected by the Rigby Island Gippsland Lakes Reserve. Turn to the west to observe the channel's shallow waters and the sandbanks that climb into golden dunes.
Watch as fishing boats and yachts navigate the Bass Strait's confined rivers and man-made canal, which connects Lakes Entrance to the open ocean.
Directions to Lakes Entrance Lookout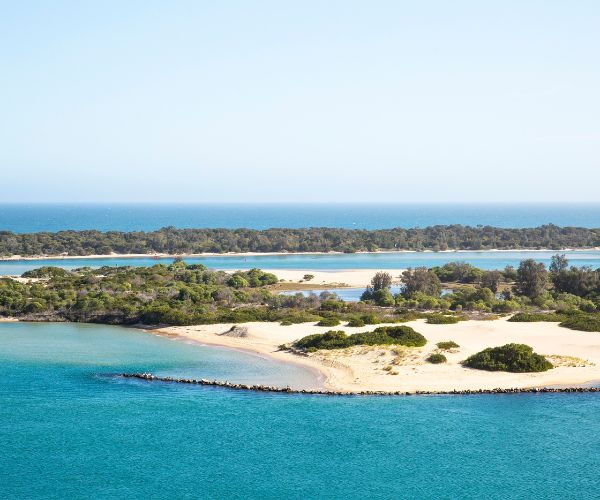 From Melbourne CBD, Lakes Entrance Lookout is a 3 hours 45 minutes drive. Take the Princes Freeway south east all the way out of Melbourne to Moe. Turn left onto John Field Drive and continue driving east through Glengarry, Nambrok, Tinamba, Stratford, Bairnsdale and then to Kalimna which is on the west edge of Lakes Entrance. Turn right into Hotel Road, where you'll see the car park for Lakes Entrance Lookout.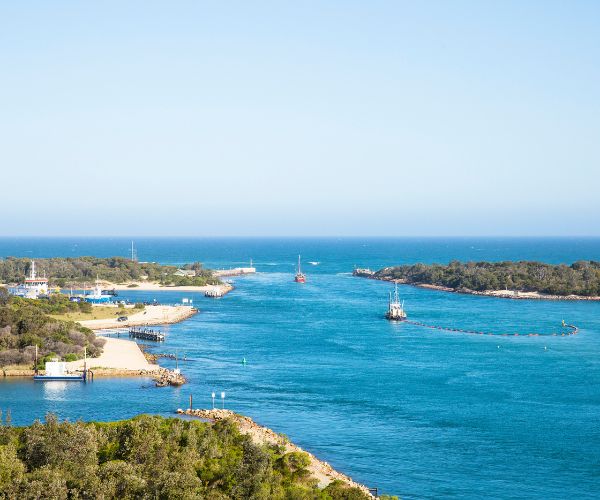 From the Lakes Entrance village, the lookout is only a couple of minutes drive. Take Princes Highway west and as you go up the hill you'll turn left onto Hotel Road and pull into the car park.
Attractions Nearby
Be sure to visit the adjacent Jemmy's Point Lookout. This observation tower offers a different viewpoint of the unending coastline that surrounds Lakes Entrance. There is some informative signage that adds details to the sights of the area.