Powers Lookout is a fantastic place to visit if you're looking for stunning views of the surrounding countryside. The lookout is located in Whitlands, Victoria, and it's one of the best vantage points in the area for watching the changing seasons unfold.
Whether you're admiring the autumn colors or taking in the winter landscape, Powers Lookout is definitely worth a visit! The lookout is easily accessible by car, and there's plenty of parking available. Once you've arrived, take a walk up to the viewing platform for some amazing views.
You'll be able to see everything from rolling hills and valleys to densely forested areas – it's an incredible sight! If you're lucky, you might even spot some wildlife grazing in the fields below.
Harry Power, a notorious but "gentlemanly" bushranger of the 1860s, made his home on the rocky cliff high above the King Valley.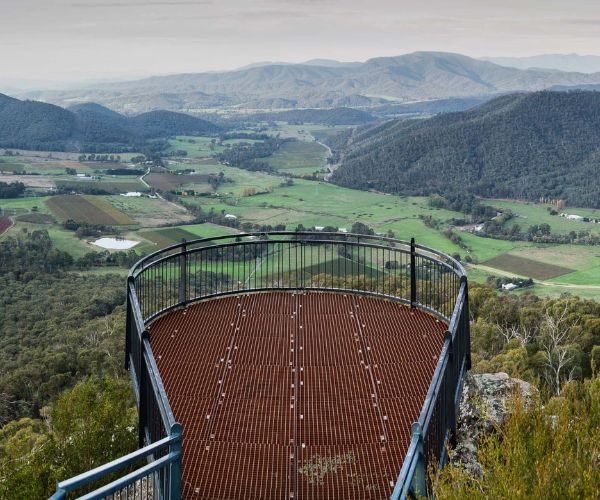 You can reach a parking area with picnic tables and restrooms after travelling three kilometres along a gravel road from the Mansfield-Whitfield Road.
Two vantage sites offer expansive vistas of the surrounding mountain and valley scenery.
Wheelchair access is available at the first lookout.
You may access an observation platform at the northernmost tip of the rocky outcrop through a short (0.4 km) trek and a set of ladders.
A waterhole nestled among stunning rocky ledges is also accessible after a 20-minute return trek through the forest. Westward down the route that leads from the restrooms.
Things To See & Do At Powers Lookout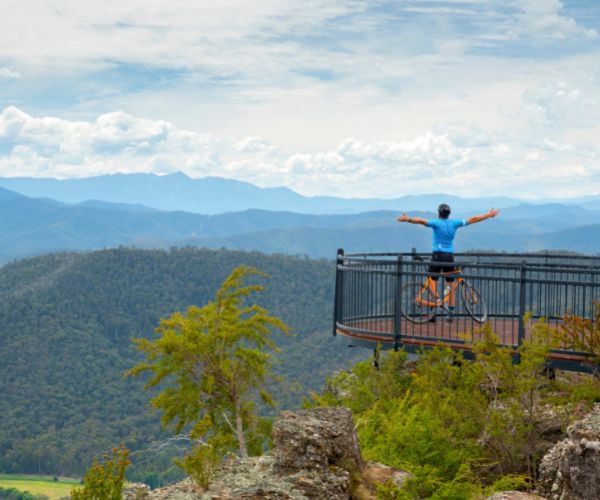 There are two viewpoint locations where you may enjoy the breathtaking view of the surroundings.
The first lookout is a universally accessible platform and is situated in the parking lot. You can enjoy the mesmerising views of the distant mountain peaks and the Wobonga Plateau from here.
A short hike leads to the second lookout, which is accessible via a series of ladders, stairs, and walkways that take you through caverns and rocky outcrops to a viewing platform at the outcrop's northernmost point. It's simple to understand why Power chose this location for a hiding with all the turns and turns along the road.
Harry's Watering Hole is also a 20-minute walk away on the way back. On the south-west side of the parking lot, there is a short trail that descends to a spring that trickles through other caverns. Legendary bushranger Harry Power is reputed to have brought his horses down here for a sip of water. The information board at this location includes more details about Harry Power, his escapades, and his ultimate demise. Additionally, there are two restroom buildings, a shelter with a fireplace, picnic tables, and fireplaces.
If you're looking for a bit of excitement, you can also take a ride on the Powers Lookout zip line. This exhilarating experience is not for the faint of heart, but it's definitely worth checking out if you're feeling adventurous. There are also a few other adrenaline-pumping activities available, such as abseiling and rock climbing.
If you're interested in learning more about the history and geology of the area, there are a few museums and interpretive centers nearby. And of course, no trip to Powers Lookout would be complete without enjoying a meal or refreshing beverage at one of the many cafes and restaurants in town. So what are you waiting for? Come see what all the fuss is about at Powers Lookout!
Best Time To Visit Powers lookout
The best time to visit Powers Lookout is during the months of March and April. During these months, the days are usually sunny and the temperatures are mild, making it the perfect time to enjoy the stunning views. The wildflowers are also in bloom during this time, adding a splash of color to the landscape. While Powers Lookout can be visited at any time of year, it is definitely worth considering a trip during the spring months.
Directions To Powers Lookout
To get to Powers Lookout from Melbourne, take the Princes Freeway towards Berwick and exit at Narre Warren North. Continue on Narre Warren-Cranbourne Road for approximately 15 minutes until you reach the police road. Take a left onto Police Road and follow it for about 10 minutes until you see Harman Road on your right. Take Harman Road and continue for about 5 minutes until you see Powers Lookout Road. Follow Powers Lookout Road to the end and enjoy the stunning views.