On Phillip Island's north shore, explore the renowned wetlands. For wading birds that travel thousands of miles to eat throughout the summer, Rhyll Inlet's mangroves and mudflats are an important location. The Ramsar international wetlands agreement recognises them.
The history and significance of this location are explained by lookouts along the route and useful information boards. A proposal to build a marina in the late 1960s nearly devastated Rhyll Inlet. Thankfully, a few committed islanders opposed the proposal, leading to the founding of the Phillip Island Conservation Society. This marsh is now acknowledged as a water bird habitat with global significance.
Key Visitor Info
Address: Mcilwraith Rd, Rhyll VIC 3923
Phone number: 1300 366 422
Accessibility: There are a couple of small stairs, but most of this track is accessible for people of most ages and abilities. Boardwalk sections make this an easier difficulty walk.
Best time to visit: Early mornings are often a great time. It's quiet, the wind is low and the tide is in.
Best known for: Nice short walks with beautiful scenery, a great place to see the native birdlife.
Things To See & Do At Rhyll Inlet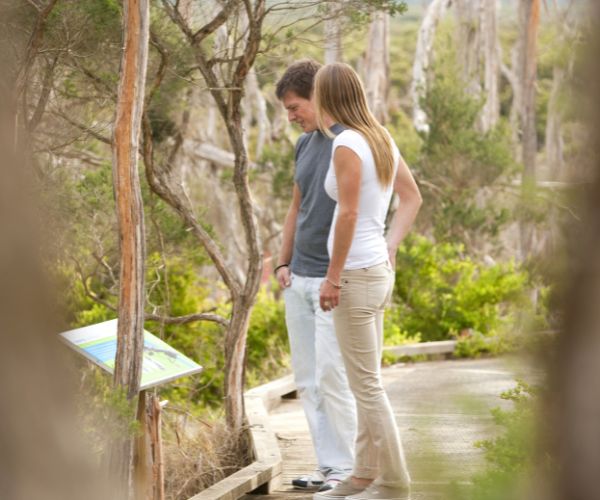 For those who enjoy the outdoors, the Rhyll Inlet walk is highly recommended. This trek will take you through a variety of settings including the lovely wetland ecosystem, a home for local and migratory bird species.
Saltmarsh, mangroves, and tidal flats can all be traversed on elevated boardwalks. Follow the green arrows after starting at the Conservation Hill information shelter. At 1.5 kilometres; 45 minutes return, it's achievable for most visitors.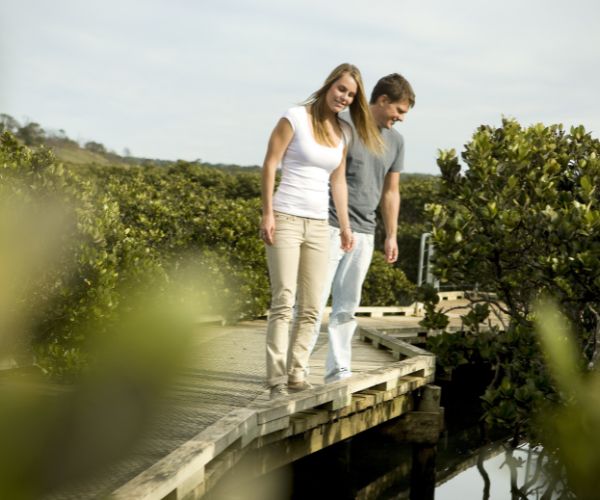 Follow the signs to the old seaside village of Rhyll for a lengthier stroll (a further 4 kms return).
Walkers are rewarded with the presence of spoonbills, oystercatchers, herons, egrets, and cormorants as they make their way along boardwalks of varied lengths through the mangroves, saltmarsh, and mudflats. Land-based animals such wallabies and echidnas are also a common sight. For sweeping views of the wetlands and neighbouring woodland areas, climb the Conservation Hill Observation Tower.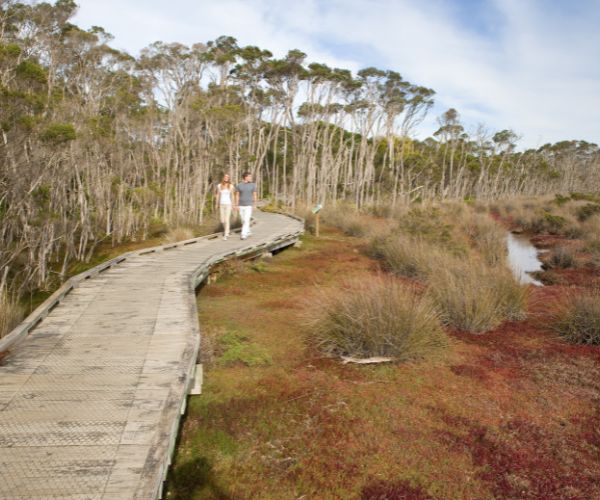 By continuing east to Lady Nelson Point at Rhyll and then descending to the Rhyll village, the about 4.3km round trip can be extended (but note there is no formed path in this section).
On this stroll, dogs are not permitted.
The starting point has restrooms (Conservation Hill car park).
Directions To Rhyll Inlet
As you drive over the bridge from San Remo into Phillip Island, continue through Newhaven on Phillip Island Road for five minutes and take a right at Sunderland Bay onto Rhyll-Newhaven Road. This will take you to the village of Rhyll in the north-east corner of the island. At an intersection take a right onto Cowes-Rhyll Road then an instant left onto Mcilwaith Road. Follow this road for about 300 metres until you reach Rhyll Inlet.
Attractions Nearby
Rhyll has some great places to eat. Take in the waterfront views of The Foreshore Bar and Restaurant or the gourmet paddock-to-table experience of Outback Chef's Wild Food Farm. There's also Purple Hen Winery where you can have a meal, do a wine tasting or take a few bottles home. If you're staying on Phillip Island for a night or two, Rhyll Haven Luxury Accommodation is highly rated amongst visitors and is close to all the attractions.