Keppel Lookout in Marysville, Victoria is one of the best places to get a view of the stunning scenery heading out towards the High Country. Located in the heart of one of the most beautiful regions in the state, Keppel Lookout offers visitors the chance to take in the breathtaking views of the surrounding mountain ranges, forests, rivers and lakes.
The lookout is situated on the edge of the 300 metre high Mount Keppel and offers spectacular views of Marysville, the Cathedral Range State Park and Steavenson Falls. From the lookout you can see the Yarra Valley and much of the alpine regions of the state. On a clear day, you can even see the distant peaks of Mount Buffalo and Mount Buller.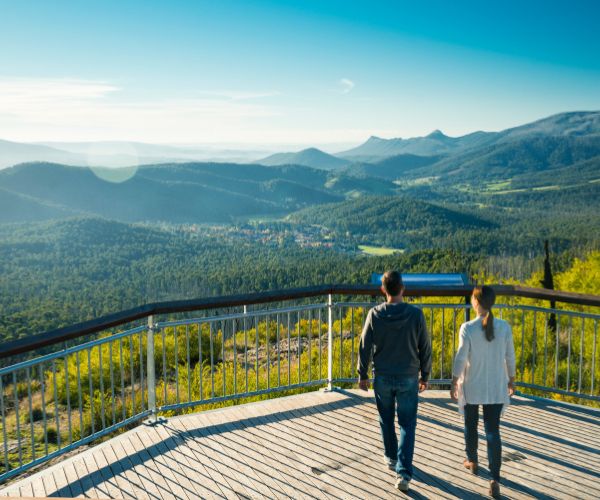 The lookout is easily accessible and can be reached by car, bicycle or on foot. There is a car park at the base of Mount Keppel, and from there it's a short walk to the lookout. The lookout itself is surrounded by a beautiful natural landscape, with plenty of nearby walking trails.
The views here are great with visitors able to look far into the distance. It's a great spot for a picnic and not far from the cafes in Marysville, so you can grab a bite to eat and enjoy the stunning views. There are also plenty of nearby attractions, including waterfalls and other lookouts.
So, if you're looking for a breathtaking view of the Victorian Alps, Keppel Lookout in Marysville is the perfect spot. With its stunning views, easy access and nearby attractions, Keppel Lookout is the perfect destination for any tourist.
Key Visitor Info
Address: Keppel Lookout Road, Marysville, VIC 3779.
Accessibility: Easily accessible, suitable for most people.
Best time to visit: When it's not too cloudy or windy.Best known for: Stunning high, uninterrupted views of the Yarra Valley and towards the High Country.
Directions to Keppel Lookout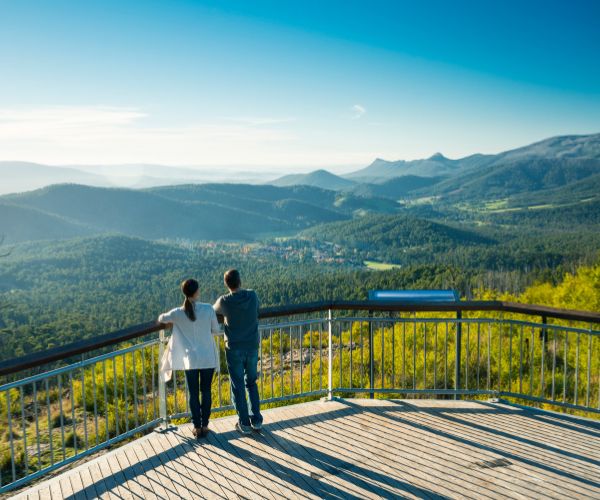 Keppel Lookout is a two hour 107km drive from the Melbourne CBD. We have included directions which avoid tolls.
Take the Eastern Freeway east, then turn left at Donvale onto Springvale Road. Turn right onto Old Warrandyte Road which becomes Tindals Road then Harris Gully Road. At the roundabout take a right onto Yarra St, left onto Kangaroo Ground-Warrandyte Rd,right onto Eltham-Yarra Glen Road. Follow this to Yarra Glen where you'll turn left onto Melba Highway, right onto Armstrong Grove then left onto Healesville-Yarra Glen Road. Follow this road into Healvesville and when the road ends at the 'T' junction, take a right onto Wilson St and left onto the Maroondah Highway.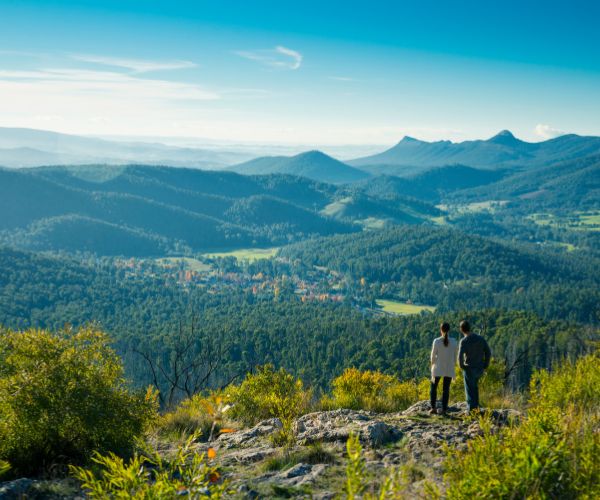 Follow the Maroondah Highway to Narbethong where you'll turn right onto Marysville Road. At Marysville turn right onto Paradise Plains Road. Turn left onto Keppel Lookout Road, Keppel Lookout is at the end of this road.