If you want to get a great look at the High Country town of Bright, check out Huggins Lookout Point This 1.6-km there-and-back track only takes about 15-20 minutes each way and offers great views in return for your time.
It can be steep in parts but will be accessible for most people. Although this is a well-traveled track for walking, running, and hiking, you can still find some peace and quiet during the slower times of the day. The walk is most enjoyable from October through March.
There is a rough track that is more suited to four wheel drives, however some people have been able to do it in more rugged two wheel drive vehicles.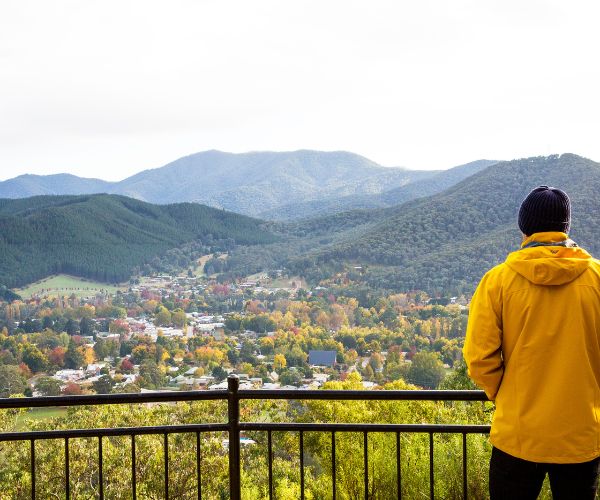 Key Visitor Info
Address: Huggins Rd, Bright VIC 3741
Accessibility: The walk to the lookout is suitable for those with good and moderate abilities. Very young children, the elderly or those with mobility difficulties may find it unsuitable.
Best time to visit: October to March.
Best known for: A high-up great view that feels like it's miles away, but doesn't take that long to get to.
Directions to Huggins Lookout Point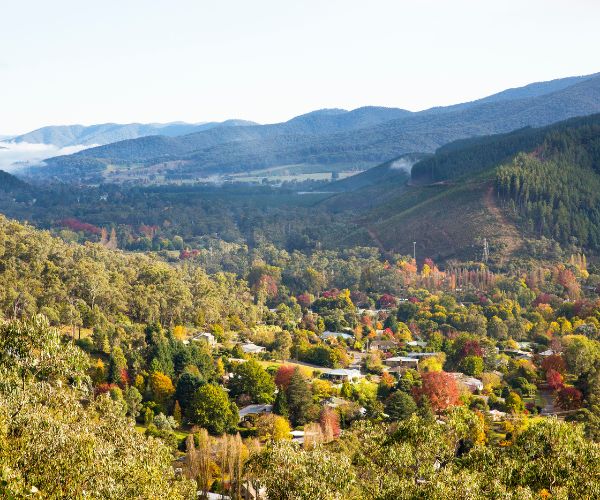 You can commence the Huggins Lookout Point walk from either McFadyens Lane (off Bakers Gully Road) or the intersection of Deacon Avenue and Zivan Court. Return on the same path after enjoying stunning views of Bright thanks to the track's steep ascent up the valley wall. McFadyens Lane can't be reached via Zivan Court.
Attractions Nearby
Outdoors enthusiasts will have a great time in Bright. Only a kilometre away there is the Mystic Park paragliding site. Those who have no paragliding experience and equipment can arrange to go tandem paragliding with one of the local operators.
The Mystic Mountain Bike Park and Hero Mountain Bike Trail offer a great place for mountain bike fans to enjoy a moderately challenging but enjoyable ride in amazing scenery.